Description
Sleek, Lightweight and Powerful
It is designed with an incredibly thin and sleek body and can perform powerful tasks seamlessly. Whatever the task – be it editing photos, multitasking, or browsing the web, this fifth-generation MacBook Air can make everything ultra-fast.
High-performance Processor
The speed and smooth performance of this MacBook Air is certain to impress. It is powered by Intel Core i5 5th Gen processor and it has a clock speed of around 1.8 GHz with Turbo Boost of up to 2.9 GHz to deliver highly efficient and exceptional performance.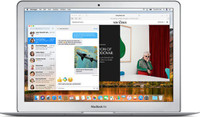 Flip open your MacBook air and it will spring to life straightaway. This highly responsive and powerful device features 8 GB DDR3 RAM and 128 GB of SSD capacity to provide faster access to data.
Instant Wireless Performance
This MacBook Air supports IEEE 802.11ac Wi-Fi that offers up to three times faster wireless performance. It also enhances the Wi-Fi range and with Bluetooth technology, you can connect your tablets, speakers or headphones without the need of any wires. So, connect effortlessly and experience incredible wireless performance.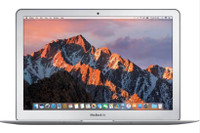 Its 64-bit macOS Sierra operating system features an entire suite of impressive and powerful apps. It makes everything you do simple and easy. Also, its strong privacy and security features ensure your personal information and data is completely in your control.
Designed with a 1440 x 900 pixel screen resolution and LED back-lighting, this MacBook Air with its 33.78 cm (13.3) screen size will enhance your viewing experience with its stunningly bright and vibrant colours.
With its 720p Face Time HD camera, you can video chat with your family and friends even if they are halfway round the world. Its widescreen format can fit everyone into the picture and the dual microphones intelligently detect your voice and reduce background noise, so you can be heard loud and clear.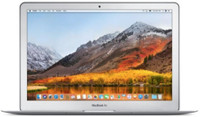 Powerful Connections with Thunderbolt 2.0
This MacBook Air is equipped with two USB 3.0 and two Thunderbolt 2.0 ports so you can easily connect your USB devices and share data at high speeds.
Its compact and comfortable full-sized keyboard is back-lit, so you can type with ease even when the lighting is low. Its built-in ambient light sensors can detect changes in lighting conditions and can automatically adjust the brightness to give you the perfect lighting.
Swipe, click, pinch or scroll on its intuitive and fun Multi-Touch Track pad. Its spacious and responsive track pad is so smooth and realistic that it will seem like you are touching what you see.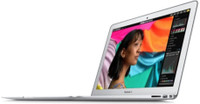 Stay Powered – Up to 12 Hours Battery
This power efficient MacBook Air offers up to 12 hours of battery life on a single charge so you can surf the web, watch movies or work on presentations all day.
Order today Apple MacBook Products online in Kenya. Best online shop deals at 𝐌𝐚𝐫𝐯𝐞𝐥 𝐀𝐟𝐫𝐢𝐜𝐚 𝐓𝐞𝐜𝐡𝐧𝐨𝐥𝐨𝐠𝐢𝐞𝐬.
𝑷𝒂𝒚 𝒐𝒏 𝑫𝒆𝒍𝒊𝒗𝒆𝒓𝒚 (𝒑𝒂𝒚𝒎𝒆𝒏𝒕 𝒗𝒊𝒂 𝒄𝒂𝒔𝒉/𝑻𝒊𝒍𝒍 𝑵𝒐.)
𝑳𝒐𝒄𝒂𝒕𝒊𝒐𝒏; 𝑴𝒐𝒊 𝑨𝒗𝒆𝒏𝒖𝒆, 𝑽𝒆𝒕𝒆𝒓𝒂𝒏 𝑯𝒐𝒖𝒔𝒆, 𝑮𝒓𝒐𝒖𝒏𝒅 𝑭𝒍𝒐𝒐𝒓, 𝑺𝒉𝒐𝒑 𝑵𝒐. 𝑺12
𝑭𝒐𝒓 𝑬𝒏𝒒𝒖𝒊𝒓𝒊𝒆𝒔; 𝑪𝒂𝒍𝒍/ 𝑾𝒉𝒂𝒕𝒔𝑨𝒑𝒑 0726 954 617
Affordable MacBooks & Apple Products in Nairobi, Kenya Only at  𝐌𝐚𝐫𝐯𝐞𝐥 𝐀𝐟𝐫𝐢𝐜𝐚 𝐓𝐞𝐜𝐡𝐧𝐨𝐥𝐨𝐠𝐢𝐞𝐬